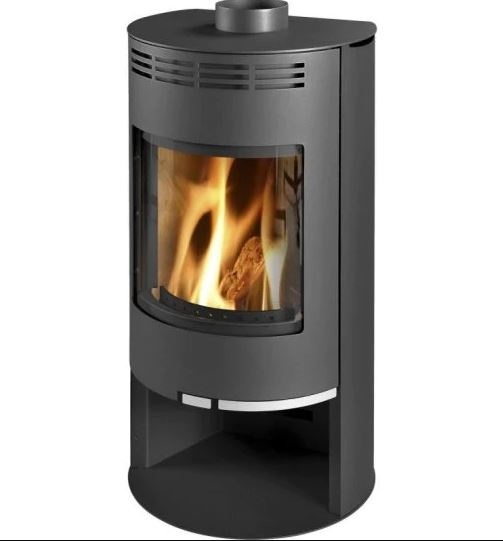 Most popular stove for twin wall

Opus Melody
To install a log burner in a room without an existing fireplace, you need

Next most popular with log store
Thorma Zaragoza
What is Twin Wall?
Twin walled pipe has an outside wall made of stainless steel and a layer of insulation between it and the inside wall. This protects your hands and property from heat radiation and thus can be used externally and internally, in houses, summer houses, boats, garden cabins, man-caves and glamping pods.

It is also known as a rigid pipe system or an external factory made system.

Once the design is completed by your HETAS engineer the works usually take place over two visits. Sometimes the design needs to be amended during installation, hence splitting over two days, in case extra or alternative parts are needed. This also helps if there is bad weather.

There will be some disruption whilst we are working, as we need to core a hole through your exterior wall for the pipe to go through, but mostly we will be working outside on ladders constructing your new flue.

We usually recommend free-standing stoves with log stores as without a fireplace or surround there is no natural place to store your wood once the fire is lit. This also raises the stove and makes it easier to access.

All twin wall systems need planning permission from your local building authority or fitting by a HETAS installer, even in your shed!

 We are an experienced twin wall installer and always use a stainless steel system over the cheaper galvanised steel as research and experience has shown it to be more durable at high temperatures and less susceptible to corrosion and rust. It is available in silver or black.
Twin Wall Gallery (Internal)
Take a look at the wood stoves that we have installed that did not have chimneys
Rocky
Fuel : Multifuel Stove
Flue : Silver Twin Wall
Hearth : Clay Tiles
Brick Board Feature

Stovax View 5T
Fuel : Wood only
Flue : Black Twin Wall Pipe
Hearth : Honed Granite
Steel Bench Log Store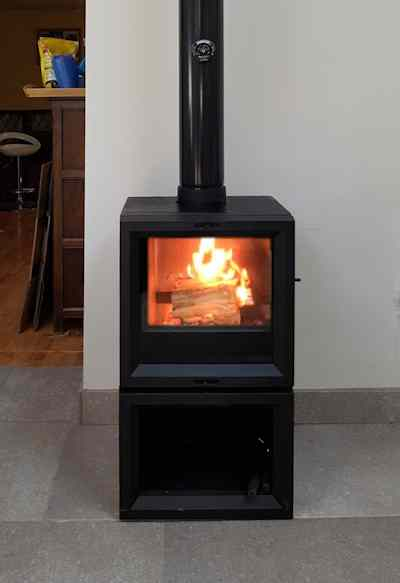 Stovax View 5
Fuel : Woodburner
Flue : Black Rigid Pipe System
Hearth : Tiles
With log store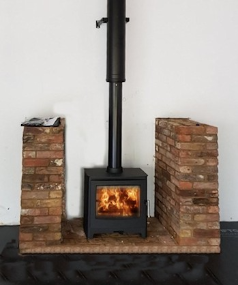 Mendip Woodland
Fuel : Wood and coal
Flue : Black and Silver Twin Wall
Hearth : Brick Original
Firebox: Brick + 1 rendered

Ready to have fake chimney breast fitted.
For more info see other services
Charnwood Aire 5
Fuel : Dedicated Woodburner
Flue : Black Rigid Pipe
Hearth : Tiles
Supplied with own log store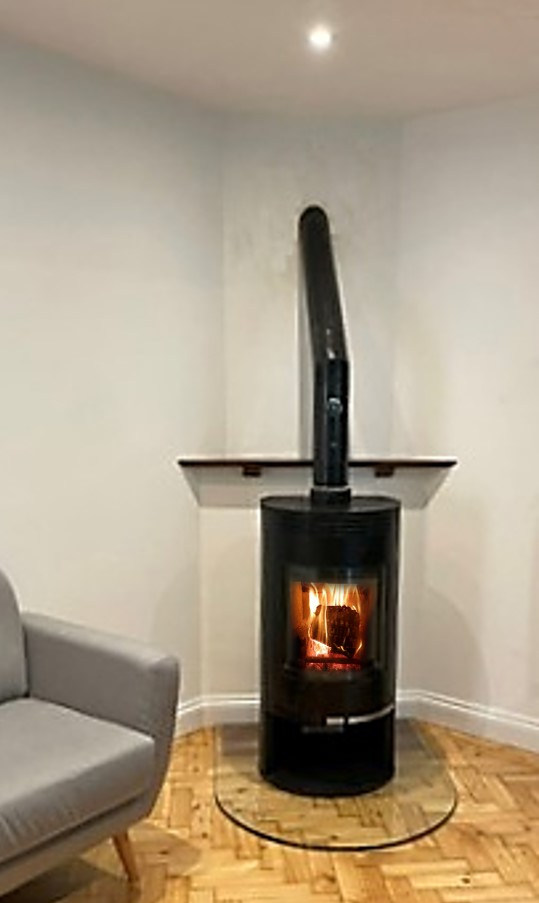 Thorma Zaragoza
Flue : Black Rigid Twin Wall
Hearth :  Toughened Glass
"Gareth and the team have always been great for us. They installed this beautiful log burner. Transformed our room. Excellent service - totally recommend for this and for all chimney related maintenance"
- Claire [ facebook ]
From start to finish the whole process was managed very well and the two gentlemen who completed the work and installation were very friendly and completed my installation to a high standard, cleaning up thoroughly after each visit.
- Rosemary in Bedford

Twin Wall Gallery (External)
This is the view from outside, to give you an idea of how your installation might look.

For tips on how to get the best use out of your log burner and how to light it
see Woodburner Tips
Steel Twin Wall
 304/316 Rigid Pipe Stainless Steel System on chalet style bungalow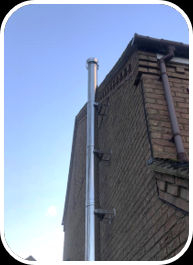 Silver Rigid Pipe
 Straight 304/316 flue with brackets from ground floor to roof
Rigid Flue System
 304/316 Factory made rigid flue pipe installed on first floor of building.
The communication on the run up to installation was excellent and all our queries were dealt with promptly and professionally. The installation process was painless and done in a COVID sensitive manner....... 
......Gareth was excellent and provided plenty of helpful tips on how to set everything up. We even got a fuel discount voucher which was a pleasant surprise, 
a really nice company to do business with.
- KeithP [yell]