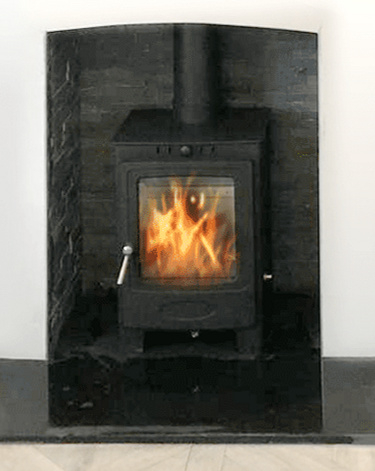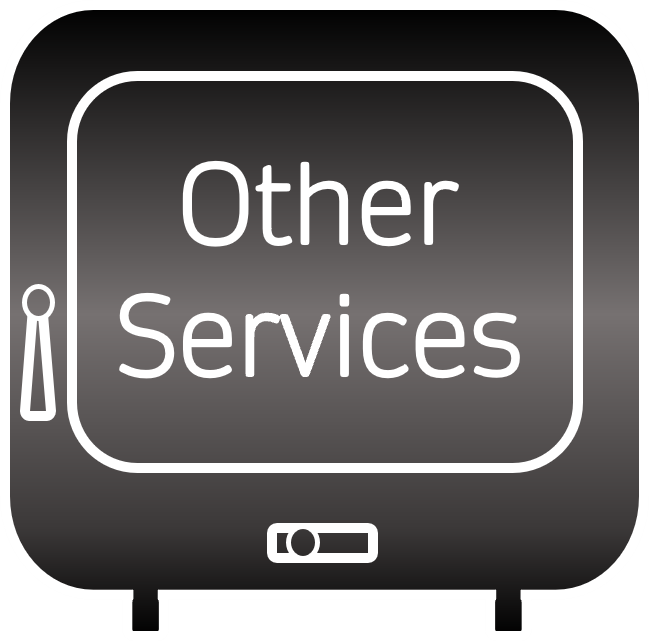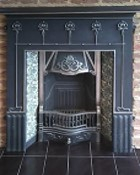 Fireplace installation and more....

Would you like a new fireplace, surround or mantel fitting , or maybe you would like an old fireplace removing and a more modern rendered look. Need a bigger statement hearth ? Or maybe a slate chamber or funky Vlaze heat shield?
Jump to Fake Chimney Breast - Surrounds/ Slips - Hearths/ Oak Beams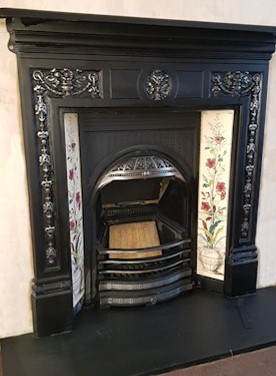 Fireplace Installation
We can fit a cast-iron fireplace for you and even restore a second hand one for fitting.
We always install so that it is in full working order, even if it is intended for decorative purposes as the next person that owns your house, may decide to use it.
Alternatively we can excavate to open up your original builders opening and make it suitable for an open fire with a grate, so that it is ready for a future log burner installation

Or we can remove your current fireplace installation and skim the wall ready for painting for you.
Stone Chamber fitting
If you would like to change the way that your chamber or firebox looks then a stone chamber is a good option. Maybe your existing bricks are of poor quality or you fancy a different look. Stone chambers are manufactured as boards and you can use them to cover one, two or all three sides of your chamber.

They are available in many designs such as rustic brick, engineered brick, slate tiles, vermiculite patterns, plain masterboard and Vlaze panels.

The added benefit of these boards is that they protect your existing brickwork and also hold the heat for longer to keep your room warm.
Stove swap
If you are thinking of swapping an open fire for a log burner or just want to upgrade your current log burner for a new cleaner burning and more efficient eco-compliant stove then we can install this for you to HETAS and building regulation standards.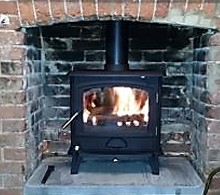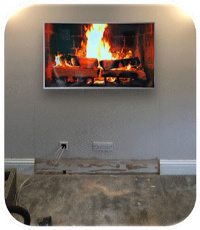 Fake Chimney Breast Installer

Sometimes a twin walled installation looks a bit lost, especially in a large room. You may want a fake chimney breast fitting so that you can fit a fireplace surround or mantel shelf or built in log store. This is the process involved.

Step 1
Build the chamber






Blocks and bricks are used to build the chamber.




Lintels are fitted and a hole made for the twin wall to exit through.

Step 2
Fit the frame


The chimney breast is framed out with timber...




....and the hearth is fitted. Tiles are used in this photo


Step 3
Making good




The chamber is rendered and the breast wall plastered. It's now ready to fit the woodburner and be painted.



Absolutely brilliant service. Quote for an inset log burner was informed, no frills, no hidden charges. Booking was easy and we were amazed at how quickly the job was completed on the day. 

Only problem that arose was finding an unforseen gas pipe which was dealt with quickly and efficiently. All in all a brilliant service and would recommend to anyone.
- MichelleW

B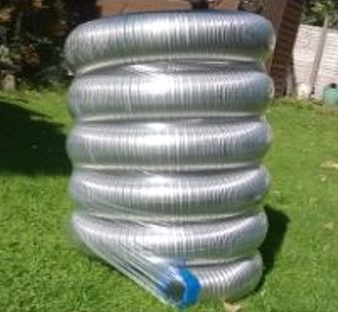 Made from stainless steel there are two gauges of steel liners on the market. 
 316/316 is recommended for woodburners but is also suitable for gas and oil
904/904 is slightly thicker and can also be used for smokeless coal which is very corrosive.

 We currently purchase from a HETAS approved supplier who manufactures solely within the UK.
Flexible Liner Fitting


If your chimney sweep, HETAS installer or building inspector has condemned your installation because it does not have a physical connection from the stove exit to the top of the flue, then the safest way to achieve this is by fitting a flexible liner. Many older stoves were fitted before 2010 with just a length of steel pipe sticking up into the chimney. In the years since this has been found to be unsafe and so building regulations were changed.
Other items required for your safety by building regulations are; hearth; carbon monoxide detector; register or closure plate and data plate. If your stove cannot be swept by removing it's internal throat plate then a sweeping hatch is required to aid sweeping. You can read the building regulations here.  

   

Open fires with poor draw may also benefit from having a liner fitted, although open fires use a lot more fuel and burn much less cleanly, so for the little extra paid to buy a log burner, you are saving in the long run. 




Usually they are held in place with a cowling attached to the chimney pot which will also stop animals from nesting in your new flue.

   
 We can also fit liners for gas fires although a gas engineer will be needed to connect up the fire.
Stove Connection Only
If you have a clay or pumice lined chimney, you may not need to have a liner fitter fitted. New build houses usually already have a lined chimney, although many lately have a fake chimney and so you would need twin wall fitting.
Please
contact us for a quote
if your chimney is lined in this way.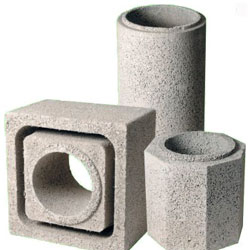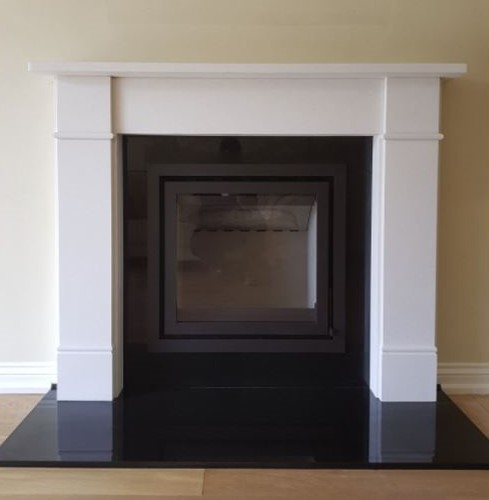 Surround Fitting
The Surround frames your fire or woodburner, it is a beautiful centrepiece for the room and provides a shelf for displaying your favourite items on. It is more traditionally known as the mantelpiece.

They come in many different materials, such as wood, limestone ( shown in the photo ), marble and plaster and at many different prices.

We can remove the old and fit a new surround for you or you can have the wall rendered, ready for decorating, if removing the old surround causes damage to the wall.  Sometimes we are able to refurbish the old fireplace/ surround if it comes away nicely.
Slips fitting
Slips are used to cover the area between the surround and the chimney opening opening. Slip sets comprise of 3 or 4  rectangular pieces that are usually made to measure for the wall area around your stove. 
They are usually the same colour and made of the same material as the hearth but not always. Suitable materials for slips are granite, stone, limestone and marble. 
The area could also be rendered or tiled depending on your preference.
Very professional, efficient, no fuss and extremely tidy, cleaning thoroughly and also helpful with user information. I would highly recommend them for a stove installation........

......I looked at three installers and GTD offered the best communication, agreeable timing and competitive pricing.
- Peter in Dunton
Hearths fitting
The hearth is the part of the fireplace underneath the stove and directly in front of it.


In traditional fireplaces the hearth will be in two pieces. One to fit in the recess under the stove and a larger one that protrudes into the room. The purpose of a hearth is to catch any hot debris that may fall out of the fire and thus protect any flooring or carpet and potentially stop a house fire.  T-shaped hearths can be made bespoke to order, but are not recommended due to the stress on the material caused by the weight of the woodburner at high temperatures.
A hearth is required by law unless the surface that the stove is sitting on already meets building regulations. 
Suitable materials for hearths are granite, marble, stone, tiles, glass and precast concrete. 
Oak Beam fitting
For a simple yet contemporary fireplace, you could opt to not have a surround fitted but instead have a floating oak shelf. We can supply rustic dried oak that is cut bespoke to fit, but for an older weatherworn effect we recommend that you take a look in the reclamation yards and source the shelf yourself.

It will provide a handy shelf above your fireplace and are available in other types of wood and finishes and even pre-cast stone. They are usually the same length as the hearth is wide and have a rough and rustic texture and float above the fireplace without visible support.